America's Cycling Capital
Time and time again Portland ranks in the top five cities, if not #1, for cycling in the United States. With over four hundred miles of bike lanes, bike specific traffic signals, and a community that not only supports alternative transportation choices but breathes an attitude of awareness towards all modes of transportation, we consider ourselves lucky to be able to help you experience Portland via the Bicycle.
Bike Maps & Information
Best Places To Ride
Self Guided Routes!
Portland on bike is the best way to see the city. We've got dozens of curated routes for you to follow while you're visiting. Whether you're pedaling one of our rental bikes or your own, these are the best routes the city has to offer. We've broken them down into four categories for your perusal as well as a recommended bike rental. We also have all of these routes loaded onto a Wahoo Bolt GPS devices as an add-on for your bike rental!
Townie Tours – Themed, chill voyages of the city
Recommended Bike: Single Speed, Multi Speed, Flat Bar Road, or E-Bike
Waterfront Loop – 5 mi
Waterfront Loop Plus – 11 mi
Books and Coffee – 9 mi
Murals for Miles – 8 mi
Donuts for Days – 8 mi
Dispenseries for Daze – 8 mi
Mystical Portland – 11 mi
Laurelhurst Park – 8 mi
Explorer Tours –  Mid-length rides to some of the harder to reach places.
Recommended Bike: Multi Speed, Flat Bar Road, or E-bike
Murals for Miles Plus – 16 mi
Cathedral Park Loop – 22 mi
Alberta/Mississippi Loop – 15 mi
Rose Garden Waterfront – 16 mi
Veg Foodie – 17 mi
Northeast Ramble – 15 mi
Southeast Ramble – 18 mi
Crusher Tours – Longer Rides for familiar cyclists or those seeking challenge.
Recommended Bike: Flat Bar Road, Carbon Road, or E-Bike
Willamette River Loop – 32 mi
Springwater Volcanos – 33 mi
Springwater Volcanos + – 39 mi
Big Eastside Loop – 55 mi
Leif Erikson Gravel – 28 mi
Leif Erikson Gravel Loop – 25 mi
Council Crest & Pittock – 28 mi
Skyline Loop – 22 mi
Super Crusher Tours – Significant challenge with lots of climbing!
Recommended Bike: Flat Bar Road, or Carbon Road
Council Crest Skyline – 57 mi
Get To The Gorge!

Where to Stay
Best Eats
Sizzle Pie – Multiple locations across town, hands down tasty pizza with vegetarian and vegan options.
Nong's Khao Man Gai – Great Thai street food and one of Portland's hottest Food Carts.
Pok Pok – You don't get to be named one of the best restaurants in the US by sitting idle, and owner Andy Ricker is certainly no slouch. Check out their whiskey soda lounge while you wait for your table (it's worth it).
Bunk Sandwiches – As the name implies, these are some tasty sandwiches. But don't take our word for it, try em' yourself!
Hopworks Bikebar – One of our favorite breweries! Check out the Velvet ESB, or wash down sliders with a light Hefe Hop. Earn discounts on your beer while peddling their electric bicycles, and see some the best handmade frames made by builders all across Oregon.
Pearl Bakery – Pearl starts off right with top quality ingredients, and a dedication to excellence in their craft that puts them at the top of our list.
Bridgeport Brew Pub – Try the soft pretzel! So good, it comes with spicy mustard and Beer Flavored dipping sauce! Also try the King Pin Red ale if you like Reds.
Prasad – If a cafe nestled in a Yoga studio sounds like a weird eating recommendation, prepare to be pleasantly surprised. (Veggie/Vegan friendly)
Art/ Music/ Events
PC-PDX.com – What's going on tonight? Quick, check the single largest nightly database of everything musical going on in our city soundscape! – Staff Favorite
Mercury listings – Music listings by date and venue location.
Willamette Week listings – News, Politics, Culture + and Stuff To Do in Portland, Oregon.
Portland Art Museum – At over 120 years old, the Portland Art Museum is an institution special to our hearts here in Portland. With a curious and unique permanent collection, and traveling exhibits that come from near and far, this museum makes for an excellent visit any time of the year.
PDX Pipeline – Since 2005 PDX Pipeline has listed over 10,000 Portland events and specials – worth a look if you're searching for that special something.
Other Things To Do:
Powell's Books – Powell's City of Books is currently the worlds largest independent bookstore, filling an entire city block and stocking over a million new, used and rare books. Few visits to Portland are complete without a quick stop to this unique location.
The Portland Japanese Garden – Featuring a large expansion to be completed in 2017, the Portland Japanese Garden is a 5.5-acre haven of tranquil beauty nestled in the scenic west hills of Portland, Oregon. The Japanese gardens also feature one of our favorite views of Mt. Hood on the horizon.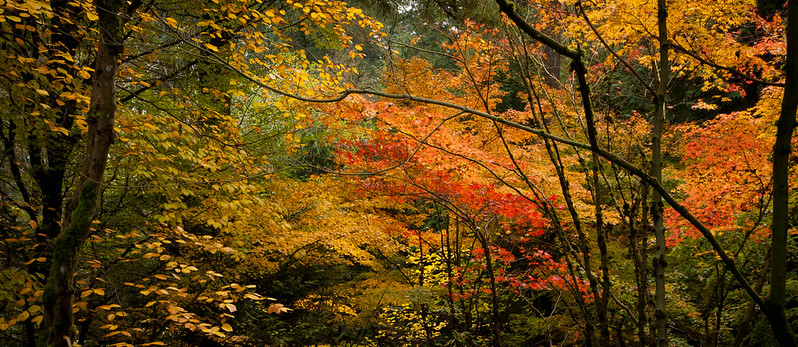 Lan Su Chinese Garden – What happens when the city of Portland collaborates with our sister city of Suzhau, China to take over a block of Old-Town? Beautiful Ming Dynasty style gardens, and and excellent spot to spend an hour, or the day. These gardens were crafted by artisans from Suzhou, and are regarded as the most authentic Chinese gardens outside of China.
Oregon Maritime Museum – If you're curious where the last sternwheeler in service as a tugboat in the U.S. rests, look no further. The Oregon Maritime Museum packs the history for the nautically inclined in all of us.
OMSI – Oregon Museum of Science and Industry. A giant museum with an OmniMax theater, great kids exhibits, and one of the submarines used in the filming of "The Hunt for Red October"!
Staff Favorites
Ground Kontrol – Where your childhood goes to come alive. Bring $5 and a buddy, and enjoy the best of the Arcade generation. As an added bonus, Ground Kontrol is a member of Portland's growing "Barcade" scene – why not have a pint while you get schooled by Tron?  While you're there, also make sure to check out the Sophie Edition.
Case Study Coffee (NE Alberta) – World class without the sass. You'll have to visit Case Study in NE Portland to discover what it's like to drink coffee like you've never had before.
The Bye and Bye – A Portland Bar. One of our local hideouts with great eats and a kickass patio.
Podnah"s Pit BBQ – Epic Texas style BBQ on NE Killingworth St.