Founded in 2007, Cycle Portland specializes in helping people experience Portland by bicycle and is a haven for bike nerds and bike nerd wannabes.  Join us on a casual ride through the vibrant city or rent a bike and explore Oregon's beautiful countryside. We envision a future where our city is the most sustainable destination to live or visit in the country.  We believe one of the most positive impacts a visitor can have in our region is choosing the bicycle over a car while here.  Local businesses and residents will be thankful to see visitors choosing to cycle as part of their trip.
There are plentiful reasons to visit Portland.  Beyond craft beer, quirky food cart pods, and world-renowned rose gardens and urban spaces, our city offers a pedal-powered culture unlike anywhere else in the country.  From floating bike paths to suspended bike/pedestrian-only bridges, Stumptown boasts an astounding network of dedicated cycling infrastructure.  By making the choice to see our region by bike, you are supporting our community's pledge to reduce greenhouse gas emissions, support & encourage healthy lifestyles, and bring the love of cycling back to your own community.
About the Family
James, Renee, and Kurt are Cycle Portland's family of cycling experts!  They have called the Portland area home since they were riding with training wheels.  Whether your steed needs to be serviced or you're in town to explore the city on two wheels, their helpfulness, inclusivity, and local area knowledge will assist you in your cycling endeavors!
Renee, James, and Kurt – Co-owners
Kurt met siblings James and Renee when they were in High School, and quickly formed a bond over riding bikes and going on wilderness adventures.  The trio became close friends, cycling down the Pacific Coast and then from Mexico to Panama City in their early 20's.  Renee and Kurt fell in love and married in 2016, riding away on their tandem, which they still use to commute to the shop!  The three have been guiding multi-day cycling tours with Bicycle Adventures in epic destinations such as Chile, Colombia, Mexico, and all over the western United States.  In partnership with Bicycle Adventures, they bought Cycle Portland during the summer of 2020! 
Taylor – Expert Guide and Shop Staff Ninja
Q: Favorite TV show growing up?
A: Avatar: The Last Airbender
Q: Most unique bike you've ever seen:
A: Double-decker bike, where there were two wheels and a frame… and then a second frame on top of it welded on.
Q: Weirdest cycling story:
A: I was testing out a bike-packing set up with a skateboard, to see if I could bike through mountains from skatepark to skatepark (the answer was: yes!). I was out in the mountains, at least a day's ride either direction from a town, camping, when I heard other bikers roll up close to midnight. They were nice and quiet, and I went back to sleep. In the morning I got out of the tent and looked at their bikes: both of them had skateboards strapped on! Somehow, four of us were out in the middle of a forest, on a dirt road, miles and miles from concrete, with skateboards. Unfortunately, we were headed in different directions. It would've been fun to link up!
Q: Favorite Beverage:
A: Kombucha- I'm a sucker for vinegar or sour flavors, love the fizz, and it's pretty fun to home brew!
Q: Wildest weather that you've cycled in:
A: I was cycling on a tour through the Olympic Peninsula, and was riding from Sequim to Port Angeles. The day started off sunny and beautiful, and then some clouds rolled in. At one point, the wind was only high up, knocking down leaves which then slowly fell to earth. It was surreal, almost like being underwater, riding through suspended leaves and feeling a strange sense of storm pressure and humidity. Suddenly, the weather snapped. Wind started howling, and rain came down hard. A huge tree fell just 20 feet behind me. Another landed with cannon fire in the distance. I was out in the mountains, and had a long ride to go before camp. My partner and I decided to just keep going and book it to somewhere more safe. We saw dozens of trees fall and were terrified of the wind, but finally made it to town. We tied our tent down against a bluff with all the rope we had and luckily survived the night with all our gear intact!
Q: Favorite place to ride near Portland:
A: Riding the trails in Forest Park. Before moving to Portland, I spent a day biking and exploring these trails, and they are beautiful!

Q: Favorite food spot in town:
A: Top Burmese in Nob Hill
Q: If you could bike around the city with anyone, dead or alive, who would it be?
A: Annie "Londonderry" Kopchovsky, who supposedly biked around the world (but mostly took boats). She was a feminist, pioneering the idea of a woman travelling by bike, and spent 15 months going around the world in 1894-5. She wore pants (gasp), left her children with her husband (gasp!), and was an amazing marketer and self-promoter (gasp!!). People were genuinely afraid of this "new woman" emerging in the wake of feminism. I'd love to ask her about her travels in that era, what the world looked like, how she likes modern bikes, and what she thinks about our current fashions. I bet she was hilarious.
Pax – Expert Guide and Shop Staff Ninja
Q: Favorite TV show growing up?
A: Justice League of America—in brightest day, and darkest night!
Q: Most unique bike you've ever seen:
A: My bike, because it is the best fastest bike in the world, and no one could possibly love their bike as much as I love mine <3
Q: Weirdest cycling story:
A: When I first moved to Portland I was crossing over to the eastside in order to come home from downtown; out of nowhere I was absolutely taken out. My bike just stopped right where it was and I flew forward right on to my chin. I only had a few scrapes, and my bike was totally fine to ride home, but I couldn't figure out how I had stopped dead in my tracks like I had. Riding over the same stretch of road a few days later I noticed that the culprit had been the light rail tracks! My front wheel had slipped into the tracks while I was going slowly over them. Not so mysterious, but it taught me to watch out for the light rail tracks!
Q: Favorite Beverage:
A: Water! Literal nectar of the gods.
Q: Wildest weather that you've cycled in:
A: I rode to school everyday in high school, and the day after a snow storm they didn't cancel school.  I decided if they weren't going to cancel school the weather wasn't so bad that I couldn't ride. Less than a mile from my house I ended up slipping on the ice that had collected in the bike lane, and having to literally jump over my bike to not smack my head into the pavement. I remember standing in the bike lane, my bike behind me with just a few cars braving the streets, and deciding to continue on—partially because I was worried about being late. I biked the remaining 6 miles to school in the roadway with the cars where the ice hadn't collected as bad, and haven't had any such icy incidents since!
Q: Favorite place to ride near Portland:
A: Council Crest is a great ride, and rewards you with a fantastic view of the city after you climb all the way up there.

Q: Favorite food spot in town:
A: Tasty 'n' daughters, which has unfortunately closed after the pandemic.
Ryan – Shop Staff Ninja
Q: Favorite TV show growing up?
A: Hey Arnold & ESPN
Q: Most unique bike you've ever seen:
A: Our Penny Farthing bike in the shop!
Q: Favorite Beverage:
A: Fresh, Cold OJ
Q: Favorite place to ride near Portland:
A: Mt. Tabor, Powell Butte, Springwater Trail, and of course Leif Erickson Trail in Forest park.

Q: Favorite food spot in town:
A: Du's Korean BBQ
Q: If you could bike around the city with anyone, dead or alive, who would it be?
A: Sasquatch! It would make for great pictures.
Cosmo
A few days after we rescued our beautiful Aussie-Collie puppy, it became clear that Cosmo is a very special boy. He was born with a genetic anomaly called Double Merle, which makes him deaf. He is very smart and responds to doggie sign language. Eleven wonderful years later, he still runs laps around the shop, hoping for a chance to greet pets from our customers! One may peek into the cosmic depths simply by staring into his googly eyes.
Baikal
Named after the world's deepest freshwater lake in Siberia, we rescued Baikal the same month we took ownership of Cycle Portland in 2020! For a young dog, he is very chill, often sleeping away the day behind the front desk. He was born to play in the snow, and also loves adventures at the beach! Oftentimes, James pedals 18 miles round-trip to the shop with Baikal happily settled in one of our bike pet trailers!
Press
Portland: 10 Things to Do Time Magazine
"Do like the Stumptown Locals: How to explore Portland By Bike. First off: where to rent. There are many places to hire wheels, but Maus suggests one that quickly connects you with the locals. "Cycle Portland Bike Tours in Old Town. Owner Evan Ross is a true gem in the community and he's got a range of bikes that help you blend in with the locals. The prices are hard to beat, too." See their website portlandbicycletours.com.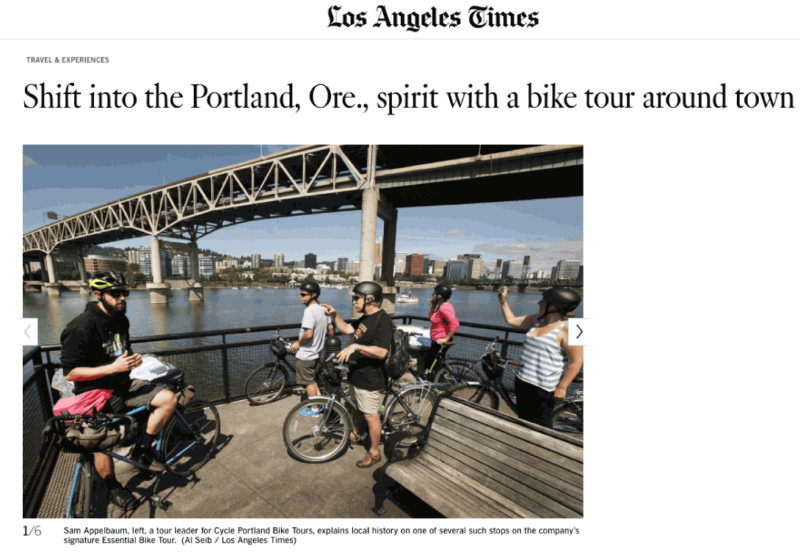 "Portlandia is pridefully weird, with its love of beards, bikes and crazy junk food. After a couple of high-calorie days here, I want to put the fetching little city on my handlebars and ride.
So I do.
Cycle Portland Bike Tours' basic ride-around starts downtown about a mile from the city's core. During the two-hour ride, guide Sam Appelbaum huddles up the 10 of us at various pit stops around town for breezy accounts of the city's history. It's an engaging way to get a feel for the city's layout and some of its conventional and quirky offerings."
"A Portland bike tour company is offering "Portlandia"-themed bike rides.
Evan Ross, owner of Portland Bicycle Tours, said he has already organized two by request and is planning one for Friday night, ending at the showing of Episode 2 at the Mission Theater in Northwest Portland.
Ross said the tour features locations from the IFC show, including a ride along to the Eastbank Esplanade vistas in the viral "Dream of the 90's" skit.
Evan Ross started Portland Bicycle Tours with just a few recycled bikes and an idea: to show people what makes Portland special in an environmentally friendly way—on bikes."
Portland Bicycle Tours: Providing Portland with Eco-Friendly Exploration – Neighborhood Notes
"We started the day by meeting up at the Portland Bicycle Tours & Rentals' Shop in Old Town at 8:30am. A few of us brought our own bikes while a couple others rented bikes. They have a large assortment of bikes ranging in sizes, single speeds and multi-speeds. We loaded up all the bikes and headed out West…"
Do like the Stumptown locals: How to explore Portland by bike – The Globe and Mail